Elon Musk's SpaceX has been given the green light for the second launch of the Starship rocket and the Super Heavy vehicle. The test flight is set to take place tomorrow, on November 17th.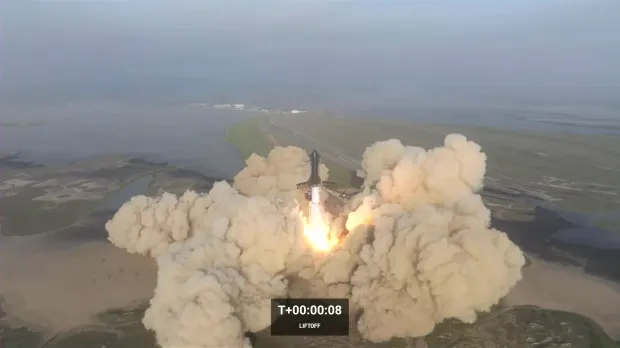 SpaceX's Starship project faced challenges in its initial test flight, but there's optimism as the rocket has now gained approval from the US Federal Aviation Administration (FAA). The FAA directive, issued on November 15, allows Elon Musk's SpaceX to proceed with its second test launch. This upcoming launch, scheduled for tomorrow, November 17, aims to address any issues identified during the first test flight.
For those unfamiliar, the Starship rocket, along with the Super Heavy vehicle, represents SpaceX's ambitious next-generation space transportation system, with the ultimate goal of transporting humans to Mars. Despite the initial setbacks, the company is in the early stages of refining its launch sequence for efficiency. The second test launch is seen as a crucial step for SpaceX to make advancements and overcome challenges in this pioneering space exploration endeavor.
Read Also:- Nvidia CEO: Generative AI to Outshine Mobiles and Internet
SpaceX gets cleared to conduct 2nd launch of Starship rocket
In an email, officials from the Federal Aviation Administration (FAA) stated that they have granted authorization for the second launch of SpaceX's Starship Super Heavy vehicle. The FAA affirmed that SpaceX has met all the necessary requirements related to safety, environmental impact, policy adherence, and financial responsibility.
SpaceX's official account on X confirmed this news, stating that they are targeting Friday, November 17, for the second flight test of Starship. The two-hour launch window opens at 7:00 a.m. CT, corresponding to 6:30 PM IST. The event will be live-streamed on various social media platforms and SpaceX's official website.
The first test launch on April 20 encountered multiple failures, including the failure of the two stages to separate, leading to the intentional destruction of the Super Heavy vehicle over the Gulf of Mexico. The liftoff also caused damage to the Starbase, creating a crater beneath the orbital launch mount and dispersing concrete and debris in the surrounding area.
To address potential issues, SpaceX has reportedly implemented a water-deluge system beneath the orbital launch mount to mitigate excessive heat impact on the launch pad. Additionally, a reinforced steel plate has been added for enhanced safety measures. These adjustments aim to improve the overall performance and safety of the Starship rocket for its upcoming test launch.