UPDF – The finest way to edit, manage, organize, and make your PDFs presentable
Want to edit and manage your PDF files efficiently using a user-friendly PDF editor? UPDF has come up as the perfect PDF editor providing a diversity of features, from editing PDFs to providing annotation tools that allow you to highlight every part of the document. Buy a single license of UPDF and get access to your Mac and all other platforms, including Windows, Android, and iOS.
Introducing UPDF – the Best PDF Editor Ever
Thus, UPDF is the best choice for editing your PDFs, especially for using it on a daily basis. Since it is a desktop software for Windows, Mac, iOS, and Android, you can use the all-in-one tool without relying on the Internet Connection. In addition to that, UPDF has the best price offers compared to any PDF editor tool. Try it free today.
Editing PDFs (Text, Images, Links)
Make edits on previously added text, images, and links of a PDF document. It is really easy for you to edit PDF file. No matter you want to edit the text in a PDF, or the image in a PDF, UPDF can help you. The experience is really smooth that editing a PDF document is like you are editing a Word document. Amazing, right?
Add URLs that link to different web pages and the pages within the PDF.
Manage the size of the image added within the document, and change its position by dragging it within the document.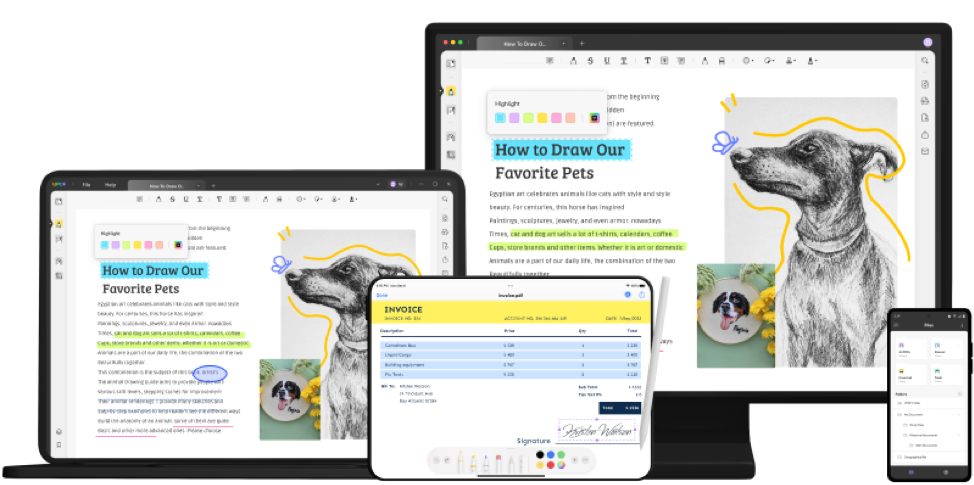 Annotating PDFs
Helps add sticky notes within a PDF file to annotate and mark the important points within a PDF.
Highlight, strikethrough text, underline and add squiggly lines to the text within a PDF file.
Add in-text comments to highlight different points for readers.
Use text boxes for adding checkboxes within PDFs and manage the color, font style, size, border color, and background.
Adapt the "Text Callout" feature for making PDFs interactive.
Utilize the Pencil and Eraser tool for annotating free-hand text within a PDF.
Include preferred "Shapes" with control over their properties.
Make use of the heap of stickers to make the outlook of the PDF look good.
Add stamps to ratify or mark something important about the PDF file before sending it to another user.
Sign your documents by using a keyboard, mouse, or trackpad. Control the color and thickness of the signature.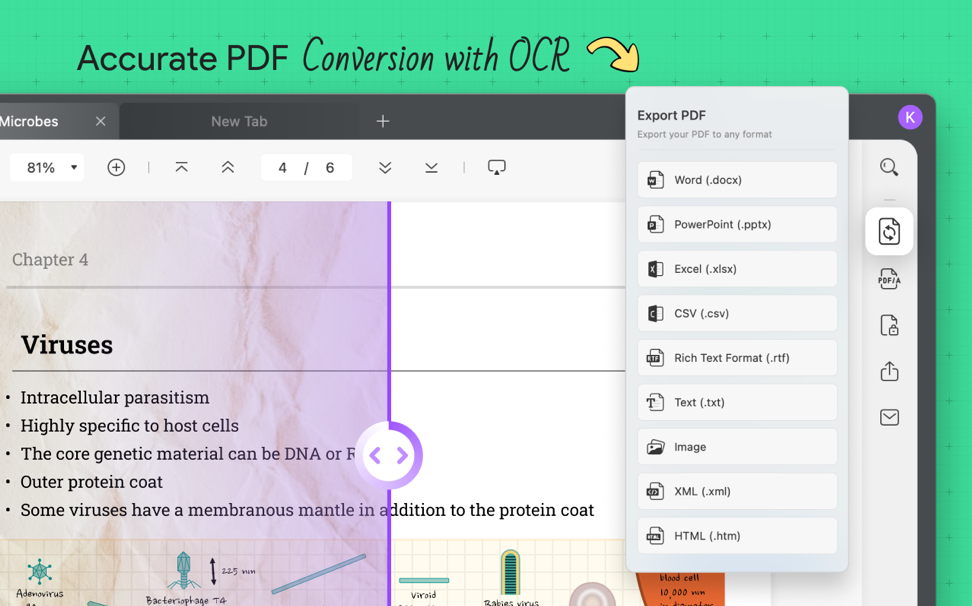 Converting PDFs
Allows you to convert to all major Office formats, including DOCX, XLSX, and PPTX.
Change the file format of your PDFs to major image formats such as PNG, JPEG, BMP, TIFF, and GIF.
Supports some unorthodox file formats such as CSV, RTF, XML, TXT, and HTML.
Use the "Text Recognition (OCR)" feature to recognize the text in a scanned PDF and convert it to text while converting the PDF into other file formats.
Save your PDF files in PDF/A format to archive data and save it for later purposes.
Allows converting the PDF file into a single-layer PDF with a single click.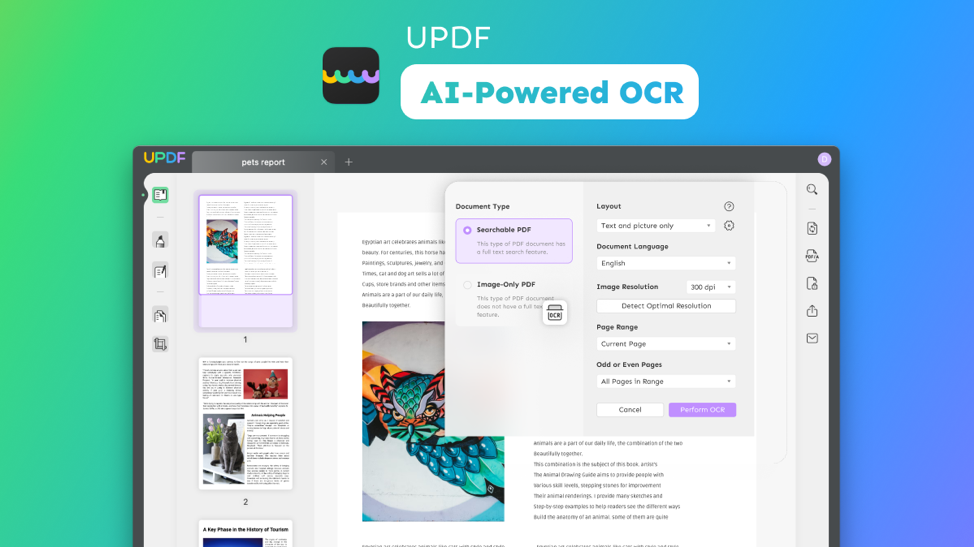 OCR PDF
Convert your scanned PDFs to searchable and editable PDFs with three different layouts.

Text and pictures only: Convert scanned PDFs to searchable and editable documents with lesser size and no particular format. Contains no image layer and thus is small in size.
Text over the page image: Transparent image layer lies under the text, saving the formatting of the document. Converts PDFs to searchable and editable documents of almost equal size.
Text under the page image: Transparent image layer lies over the text, making the document only searchable. PDF is not editable.

Provides support for 38 languages which can be detected as per choice.
Set image resolutions and define advanced layout settings with ease.
Even allows you to convert searchable and editable PDFs to image-only PDFs with another feature available.
Protect and Share PDFs
Add open passwords to PDF documents to prevent unauthorized users from accessing the document.
Use permission passwords to put restrictions on editing and printing.
Offers 3 different encryption levels, including 128-bit RC4, 128-bit AES, and 256-bit AES.
Easily share your PDF documents with other users by sending them as a link through their email.
They can open the PDF without downloading UPDF on their devices.
Can also share PDF files through email.
Organize PDF Pages:
Rearrange all the pages of the PDF document with the simple drag-and-drop feature.
Insert page or pages at any point of the PDF file, either blank or from another file.
Replace the page or pages of a PDF file with another PDF document.
Split the PDF into different files, as per the requirement, with no restriction on splitting files.
Extract a page out of a document as per convenience.
Rotate any PDF page clockwise or counterclockwise with a single click.
Manually adjust the margins of the PDF to crop out unnecessary parts.
Use an automatic approach for setting up margins and page size, with an option of customized page range settings.
Watermark PDFs
Add or remove a watermark from a PDF document with a single click.
You can add text, images, and PDF documents as watermarks with adjustable layouts.
Manage the font orientation, underlining, and color of the content that is added for the watermark.
Set the ratio and opacity of the watermark.
Use the option of including a tiled watermark with adjustable margins.
Background PDFs
Set color, image, or document backgrounds on a PDF in a single click.
Define the ratio and opacity of the background.
Header & Footer
Put in header and footer according to any layout.
Include dedicated page numbers and dates according to any format available.
Utilize the variety of page number formats available.
Set the font style, color, and size of the header and footer.
Easily edit and remove header and footer from PDFs.
The Header & Footer bar offers options like Layout by which you can change the PDF layout. You can number pages with the Content option and edit page numbers manually or with the insert page number option. Moreover, you can specify page number format, add margins, and set columns size. After making edits, select the icon from the upper right bar to add page range, and then finally click on the "Save" button from the bottom to save the changes.
Create PDFs
UPDF allows you to create PDF documents under four different provisions:

It can be created from scratch with a blank page.
It can be created with the option of Selection Capture
It can be created by capturing a window on the device.
It can be created by using the Screen Capture option. 
Read PDFs
Provides a user-friendly environment for reading PDFs with ease.
Features an option of slideshow PDF, which can be done in three ways:

Playing from the start of the document.
Playing from the current page that is open.
Using the presenter view that provides a laser pointer, pen, and eraser to help the user present the document easily.

Include simple bookmarks on PDF at any place you want.
Conclusion
Sometimes, you want to seek for a free PDF editor, however, there are no free PDF editor actually. Maybe there are free tools that allows you to add text to your PDF, but there are no free tools that allows you to edit the existing text in the PDF document. UPDF offers a really reasonable and cost-effective price and you can rely on its performance and features too.
The converting feature of UPDF not only allows you to convert your PDF files to Word documents, but it also supports multiple other formats like Excel, PowerPoint, Text, Image and many more.
The best thing about this feature is the use of OCR. The OCR allows you to make the scanned PDFs editable. It also allows you to select your preferred language before using the OCR feature. So what are you waiting for? Try it now.