Join the AMA-Session with S-Wallet Founder and get $10,000 worth of rewards
August 1 marks the beginning of a better, faster and more powerful digital platform for managing digital assets, which will be discussed in the AMA Session partnered with S-Wallet. Event will take place over the Neuronix Analytical agency platform, with participation of crypto wallet team headed by Serio Latansky –project COO!
And you guessed it right! This is the kind of project which makes money right on the onset as soon as it starts. If you're not sure what we're talking about, we'll be glad to fill you in with the details.
Here's how to join!
Effortless Management Of Digital Assets
The online market is an ever-increasing industry where the number digital assets continue to grow. With the constant market growth comes the need and demand for reliable as well as excellent quality platforms and systems to manage digital assets. Unfortunately, most of the digital platforms today offer expensive service fees which is not very convenient to the general user. What the market needs is a fast and reliable platform that doesn't take a toll on the budget.
The S-Wallet features a digital multi-currency wallet supporting USD/EUR and other cryptocurrencies along with fiat assets. It is designed to receive, send, exchange and even store anytime and on various computing platforms.
The project aims to create a secure and innovative financial setting that brings about peace of mind and convenience to fiat as well as crypto asset users in their daily use. It also enables users to effortlessly manage payments and transactions online, and gives affinity with present and future S-Wallet users for corporate and business ventures.
This project has an enormous impact on the fiat and crypto society. It is well-known through their crowdfunding stages which are as follows:
A total of 2,000,000 SWP tokens were immediately redeemed by participants just within the first 5 minutes after the first stage from the presale round.
The second stage from the presale round has been redeemed within 22 seconds despite minor technical delays.
The second stage from the presale round was redeemed in as fast as 7 seconds.
This comes to no surprise seeing that this project is an opportunity for competitors to gain awareness, and enables users to access a boat-load of benefits which include the following:
Optimum Speed – swift cross-chain transactions and exchanges, along with fast and user-friendly interface are guaranteed in PC and mobile devices.
Loyalty discounts – much lower fees are offered for SWP token holders.
Special assistance for selected blockchain systems and selected tokens.
Convenient banking system – users can purchase crypto and fiat assets using bank cards.
Reliable customer support – S-Wallet customer support are always ready to help out with customer concerns.
Language diversity – S-Wallet can be accessed in various languages for convenience.
Furthermore, S-Wallet plans, offers and features doesn't stop here. With the internal SWP token added to Uniswap from July, August will commence the profitable staking period of the project. Also, the platform will be made available for mobile users in September.
If you have more questions about this project, you can easily ask it directly from Sergio Latansky on August 1 at the AMA of S-Wallet and Neironix event! An "Ask me Anything" portion of the session will be made during the "Attention Mining" – a community interaction feature of the event. Something to look forward to!
Active users with engaging questions will be rewarded a total of $10,000 SWP tokens! This is a very rare opportunity to get your hands on a coin – so don't miss it!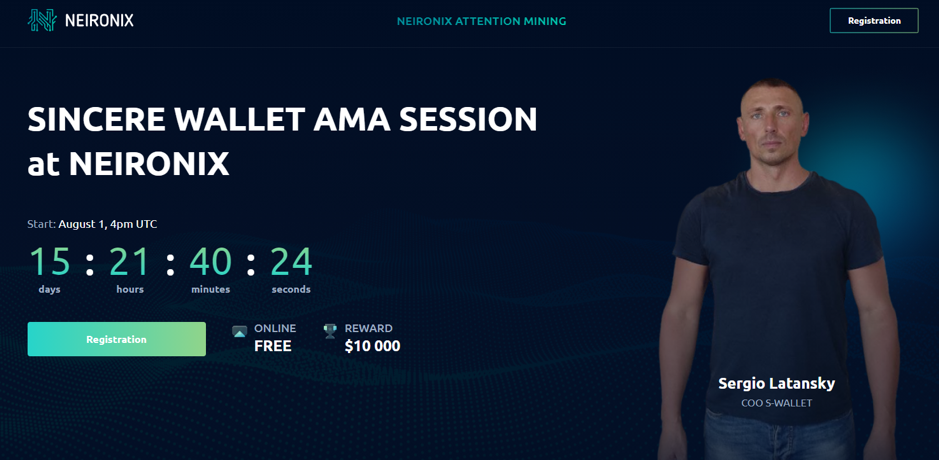 This is a free event which means you don't have to pay for any registration fees! But participants are limited so you want to move now before you run out of slots. Check out their website and sign up now for the event.
August 10 also marks the SWP token sale, so make sure to mark your calendars.
So, sign up now for this one-in-a-million chance!