How To Set Up a Stripe Account?
Stripe, like PayPal, is an intelligent credit card processing platform. As a secure payment transfer platform, it is one of the options available. Although, many consumers wonder what information they'll need to set up a Stripe account. Also, how to set up Stripe account is a prevalent question. However, if your business is in a high-risk industry Stripe will likely withhold your funds & deactivate your account. If so, then you will need to setup a high-risk merchant account to start receiving payments.
The good news is that it isn't that tough. However, you will need to follow a few steps to set up an account. Simply go through the process as I guided in the further discussion and fill out all the information accordingly. Hopefully, you will find it easy and helpful. Let's begin!
How To Create a Stripe Account
For setting up the account first, you need to create a Stripe account. For creating an account
Go on the website com
Click on the Start Now button
This action will bring you to a page where you need to fill in a few fields to create a basic account
Email – Must use a genuine email address because stripe will verify the address.
Full Name – Enter an appropriate name.
Password – Must use a strong password. (Example – As$ort109EiGht)
Then click on Create Account
By doing this, you will sign in to your dashboard.
How To Set-up Stripe Account?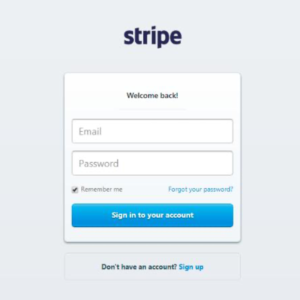 Here, I'll guide you through a step-by-step process for gathering the information Stripe requires to set up your account. Now you have to complete a few steps before you start the set-up process.
1. First, you have to VERIFY  your Email Address.
Stripe just sends an email to the provided address to sign up with a link. You have to click on the link to verify that you own this email and access it.
2. Then,  ACTIVATE your stripe account.
3. Click the START NOW button.
4. Business Address
This process consists of a few steps. If you run a home-based business, or a sole proprietor, or an individual or a Corporation, whatever your business is set up, Start by entering your BUSINESS ADDRESS. Here you have to fill in some information.
Business address – From where you are doing your business. Must use the address from your EIN card.
Region – The region from which your business is registered.
Province – Where your industry is situated.
Postal Code – Write based on your EIN card.
Then click on NEXT
5. Personal Information
Here you will see a form with fields similar to the questions you might get if you create a bank account.
Legal Name Of Person

Your First Name – You can use your passport name here.
Last Name – Copy from your passport.

E-mail Address – Use the address same as before.
Date of birth – Depend on your passport.
Home Address – Depend on your passport.
Social Insurance Number – SIN not necessary for all but Canadians.
Then Click NEXT
6. Business Details
Here you find a page named Business Details where you have to specify what industry you are in. You will find many options as a whole list of industries such as clothing brands, software, etc.
Industry – Select whichever category is most appropriate for your business.
Business Website – If you have a business website, then enter it. But if you don't have any, then use the website of the platform you are using for business.
Product Description – Write some relatable description of your Products. It's not so important.
Then click NEXT
7. Customer Statement Information
Then you will find a page of CUSTOMER STATEMENT INFORMATION. Here you will get an opportunity to customize the information that your customers will see on their credit card statements.
Statement Descriptor – It is the name that states on the customer's copy. Stripe will use the website address you provide by selecting default, but you can change it if you want.
Shortened descriptor – To simplify the name.
Customer Support Phone Number – Provide a valid phone number that can be used by customers if needed.
8. Where Should We Send Your Payouts
This page is nameWhere Should We Send Your Payouts?
Here you have to provide your bank details where stripe asks for the information that is not prohibited from sharing with the public.
Currency – what type of currency you are using. Ex. US Dollar
Transit Number – You will find this on your checkbook.
Institution Number – This data is also included and marked on the website. You will find it there.
Account Number – Enter your bank account number here.
Confirm Account Number – Copy the account number and paste it here.
This info will link your payments to your bank account.
9. Two-Step Authentication
This is the Last step in activating your account to set up two-step authentication for your verified Stripe account.
Use SMS– This is the easiest way. Just

Enter your phone number
Click on confirm phone number
Then they will send you a six-digit code. Enter that code, and the confirmation process will be completed.
Use Authenticator App – This process is quite complex. So, I prefer SMS.
Skip for now – If you don't want any authentication, you can hold it for a while. But you have to do it later. So, my suggestion is to go for it while setting up the account.
10. Final Checking of the Details
They will take you to a summary page where you find all the information you have filled out.  Check this properly. If you find any mistake, you can change that.
11. Then Submit
Now you can start taking payment through Stripe and connect your Stripe account to whatever sales platform you are using to do business.
Conclusion
Now you know how to set up a Stripe account easily. You might be asking why you need to fill out so many forms. Stripe simply wants to ensure that you are a real person who will not be using their platform to launder money. I hope you will enjoy this platform safely and securely.