How to Increase Cloud Storage for Free?
In the past few years, the cloud backup services becomes popular than ever, and now the cloud storage users more than hundreds of millions of users. Therefore, there are so many cloud storage providers to offer the cloud storage, like Google Drive, Dropbox, OneDrive, Box, and other clouds.
However, you might find that the free storage space on these clouds is not enough for personal cloud backup because the limited free cloud space, what should you do?
| | |
| --- | --- |
| Cloud Drives | Free storage Space |
| Google Drive | 15 GB |
| Dropbox | 2 GB |
| OneDrive | 5 GB |
| Box | 10 GB |
| Amazon Drive | 5 GB |
| pCloud | 10 GB |
| MEGA | 15 GB |
Increase cloud storage space could be the first choice. But how to increase cloud storage for free without upgrading? Here we will show you the ways to increase cloud storage for Google Drive, Dropbox, OneDrive. Let's find out the solutions.
Increase Google Drive Storage Space
There are some tips to increase Google Drive space:
Tip 1. Use Google Drive's own File Formats
Google Drive allow you store the following file format with unlimited storage space:
Google Docs
Google Sheets
Google Slides
Google Forms
Google Drawings
Google My Maps
Google Sites
Direct Link Creator
Google Apps Script
Google Data Studio
Google Jam-board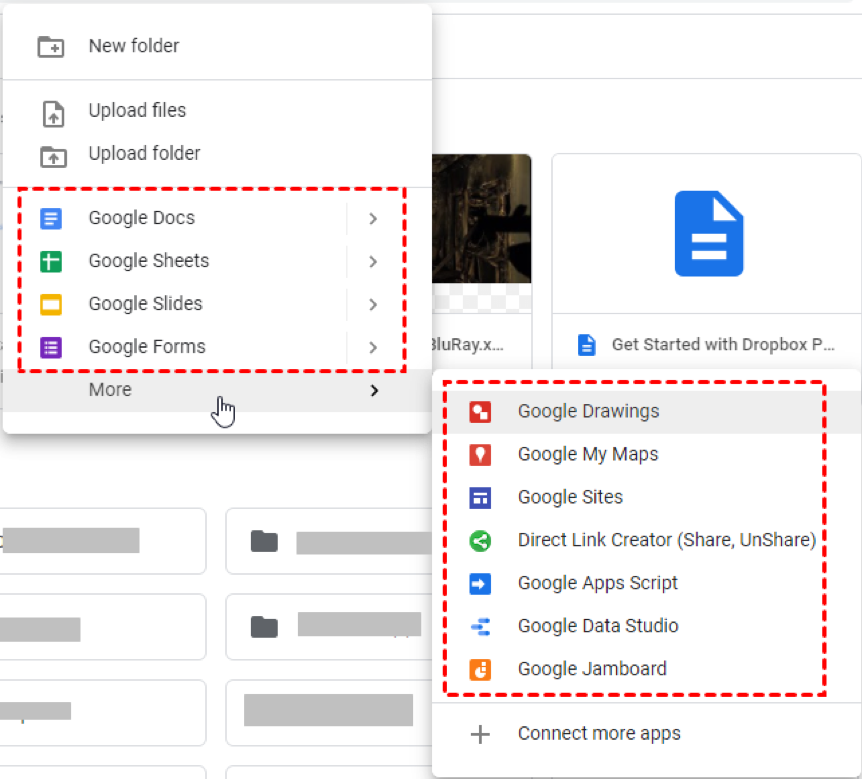 If you want to get Google Drive unlimited storage space, please use the above mentioned file formats.
Tip 2. Use Google Photos
If you take photos and videos a lot, and want to store to cloud, then Google Photos will do you a big favor. Google Photos provides the unlimited storage space for high quality photos (up to 16 MB) and videos (up to 1080p resolution). And the these photos will not count toward your current Google Drive quota.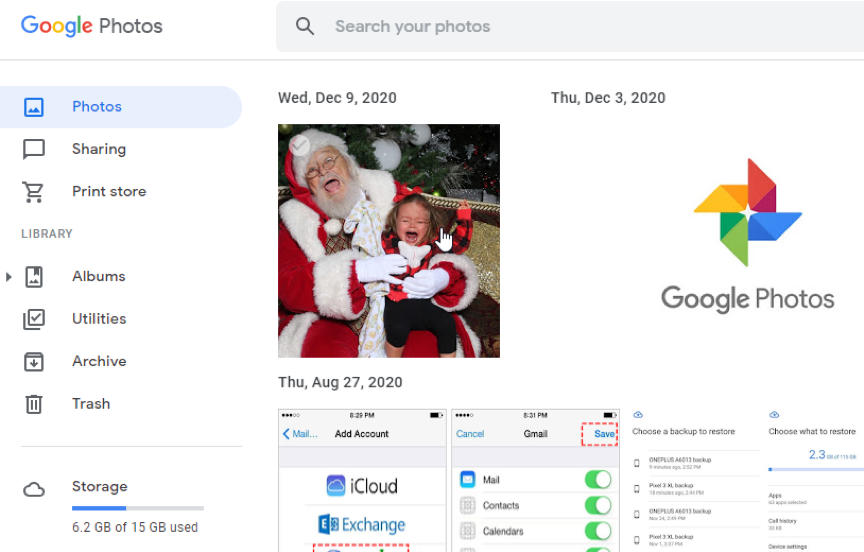 Important: Google decides to make changes for Google Photos, since June, 1, 2021, any photos and videos you uploaded will count on your Google Drive quota.
But, if you have Google Pixel 2-5 devices will continue to enjoy the unlimited free storage even June, 1, 2021. Upload photos and videos from other devices in High quality after June 1, 2021 will count towards your Google Drive storage.
Increase Dropbox Storage Space
There are some tips to get more free space for Dropbox:
Tip 1. Get 250MB bonus
To get more space for your Dropbox account, log in to your Dropbox account, go to https://www.dropbox.com/gs web-page, and there are some steps to get 250 MB bonus, and finish at least five of the options and you will get rewarded.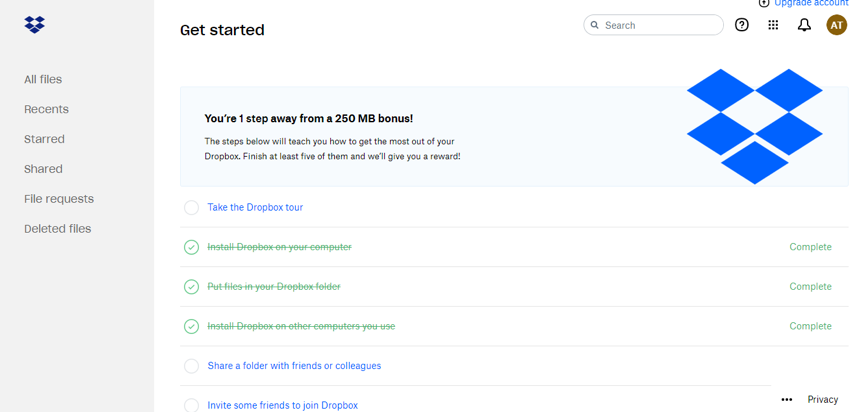 The steps you could finish listed below to get a 250MB bonus:
Take the Dropbox tour
Install Dropbox on your computer
Put files in your Dropbox folder
Install Dropbox on other computers you use
Share a folder with friends or colleagues
Invite some friends to join Dropbox
Install Dropbox on your mobile device
Tip 2. Invite friends to Dropbox and get more free space
Please click your Dropbox account > Settings > Plan > Invite a friend to get 500MB bonus per user. And you could get up to 16 GB storage space for Dropbox.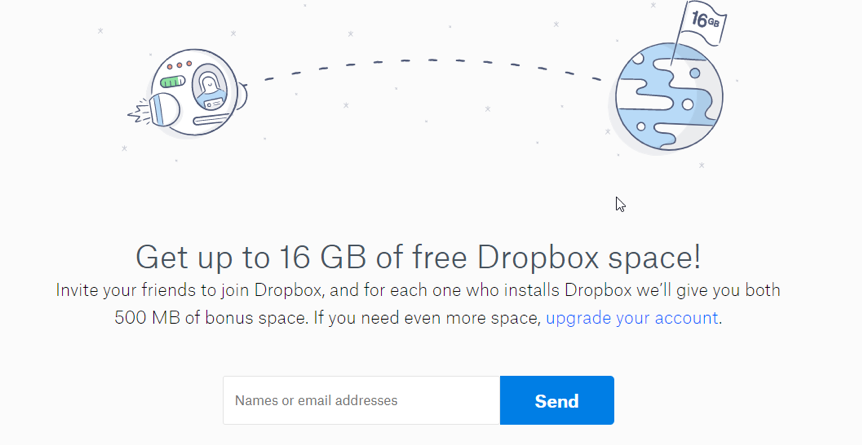 Tip 3. Contribute to the Dropbox Community forum
Except for the above 2 ways to increase Dropbox storage, you could contribute to the Dropbox community forum and answer questions, and you will get additional 1 GB storage space for Dropbox account if you earned 'Mighty Answer' badge after getting many likes or accepted as a solution.
Increase OneDrive Storage Space
If you get more additional storage space for OneDrive without upgrade, you could invite friends to sign into OneDrive, both of you and your friends will receive an extra 0.5 GB free stroage, and the maximum extra free storage you could get is 10 GB.
Log in to your OneDrive account, click Settings icon > Options. Check Your additional storage at Manage storage tab. Then click Earn more behind the Referral Bonus.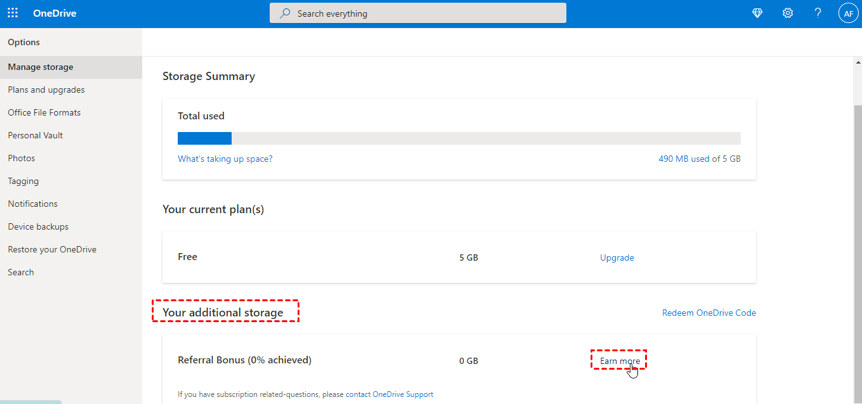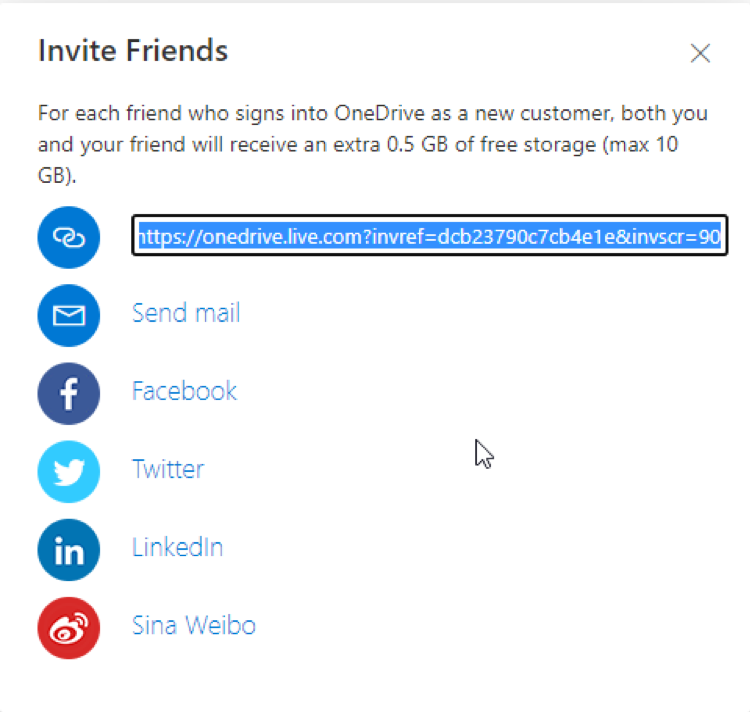 However, the above ways to increase cloud storage is quite limited, is there any better way to increase cloud space for free?
Better Way to Increase Cloud Storage for Free
As the best web-based free cloud backup service, AOMEI CBackupper could help you merge cloud drives to get more free space. It supports Google Drive, Dropbox, OneDrive, and many other cloud drives. But first of all, you must have multiple cloud drive accounts, even different cloud platform.
Here we will increase Google Drive storage space for free with the following steps:
Step 1. Please create a new AOMEI CBackupper account, and sign in.
Step 2. Click Added Clouds at the left side, and click Add Cloud button to choose your Google Drive, click Add. Click Allow to give CBackupper access to your Google Drive.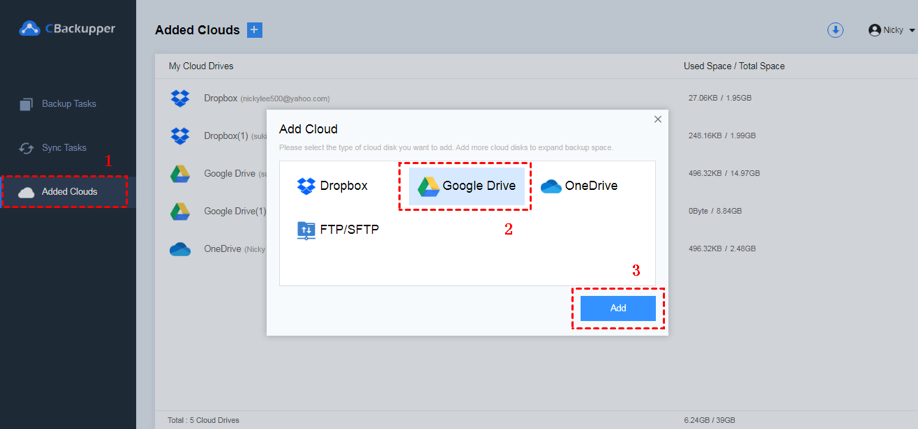 Step 3. Customize the Display Name to differ from other Google Drive accounts, Edit the Storage Path and Allocate Space, then tick the Note: Please do no change the path directly in the third-party cloud disk, or modify or delete the backup file option, click OK.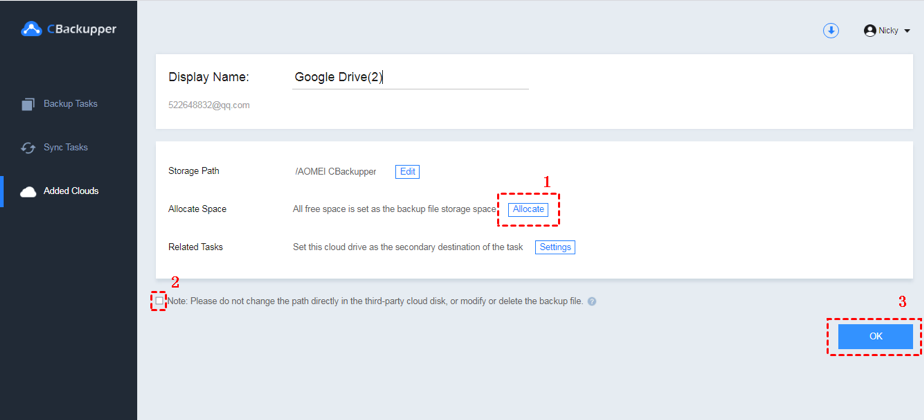 Step 4. Repeat the process to add other Google Drive accounts.
Then your Google Drive cloud storage has been increased, and you could backup files to Google Drive, if one of the Google Drives you added storage full, the files will be backed up to other Google Drives automatically.
Besides, the CBackupper will help you perform cloud to cloud backup or transfer easily.
In the End
It's easy to increase cloud storage for free with CBackupper compared with other ways to increase storage space for clouds. And you could find the best way to increase cloud storage space according to your demands.