BuhoCleaner: Free and Speed up Mac with Just One Click
After using the Mac for a long time, it will accumulate a large number of files unknowingly, causing problems such as insufficient storage space and slow operation speed. If you have a limited budget and cannot buy a new Mac with larger storage space, using a handy Mac cleaning software to free and speed up your Mac can be your best choice.
By chance, I discovered BuhoCleaner, a super easy-to-use Mac cleaning software. What attracts me most is its high efficiency and ease of use. It supports both Intel and M1 Mac. It can help us easily handle all common cleanup tasks, such as junk and cache file cleanup, application removal, large file and duplicate file cleaning, startup program management, etc.
BuhoCleaner official website: https://www.drbuho.com
BuhoCleaner's Notable Features:
Junk File Cleaning: quick scan and clean up junk files in one click.
Remove Unwanted Apps: remove Mac applications from your Mac without a trace.
Large File Cleaning: detect and remove large files quickly.
Duplicate File Cleaning: quickly search and clean up duplicate songs, photos, files, documents, and more.
Startup Programs Management: stop apps and services from opening on startup on Mac, enabling your Mac to boot quickly.
Real-time Monitoring of System Status and Release of Memory: monitor the status of the macOS at any time, and free up memory space with one click.
Optimized for macOS Big Sur and M1 Macs.
Supports 10+ languages.
Lifetime free upgrades.
Compatible with macOS 10.12 or later.
To help you have a better understanding of the program, I'll test it on my 256GB M1 MacBook. Let's have a look now.
Simple and Easy-to-Use Interface
The interface of BuhoCleaner is simple and easy to use. All its functional items are placed on the left sidebar, and there are no other distracting items. More importantly, unlike other Mac cleaners, BuhoCleaner does not require many permissions, so that you can use it with confidence.
Clean Junk and Cache Files in Seconds
BuhoCleaner provides you with an instant Mac cleaning and maintenance solution by removing temporary files, application leftovers and system cache. After clicking Flash Clean and the Scan button, it started scanning my entire system. It took less than 10 seconds to scan my 256G MacBook completely.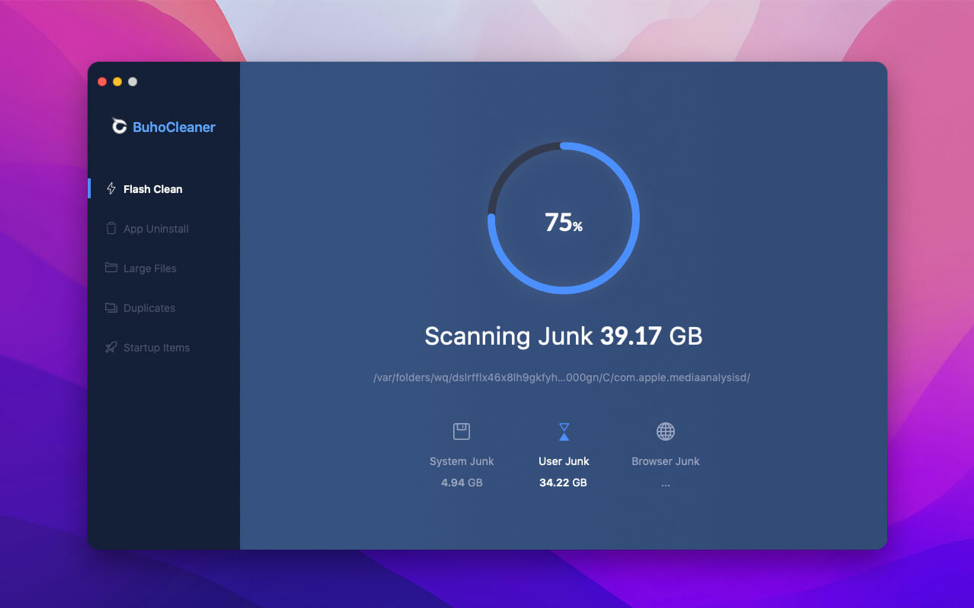 BuhoCleaner will intelligently select the files that can be deleted. If you trust it, you can delete these files with one click by clicking the Remove button. Of course, you can also manually view and select what you want to delete or keep by clicking on the View Details button.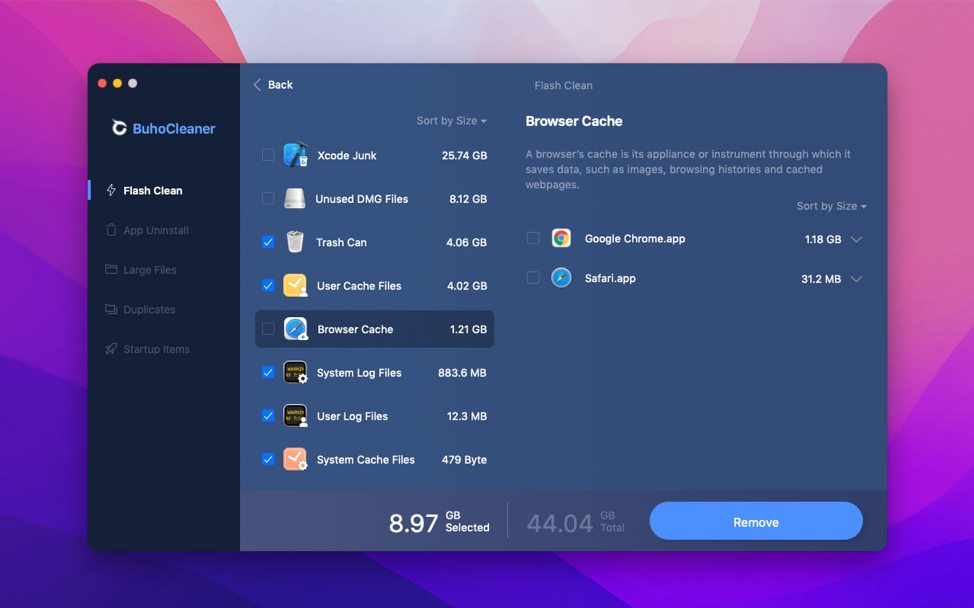 Uninstall Apps and Remove Leftovers Quickly
How do you usually delete apps? In my case, I just manually dragged the program to the trash can but found that the program was not completely deleted. Its cache files, support files, log files, etc., are still stored on my hard drive. BuhoCleaner solves this problem perfectly. With it, I can delete multiple applications quickly and completely. When I switch to "leftovers", all the leftovers of my uninstalled apps are there and can be deleted with one click.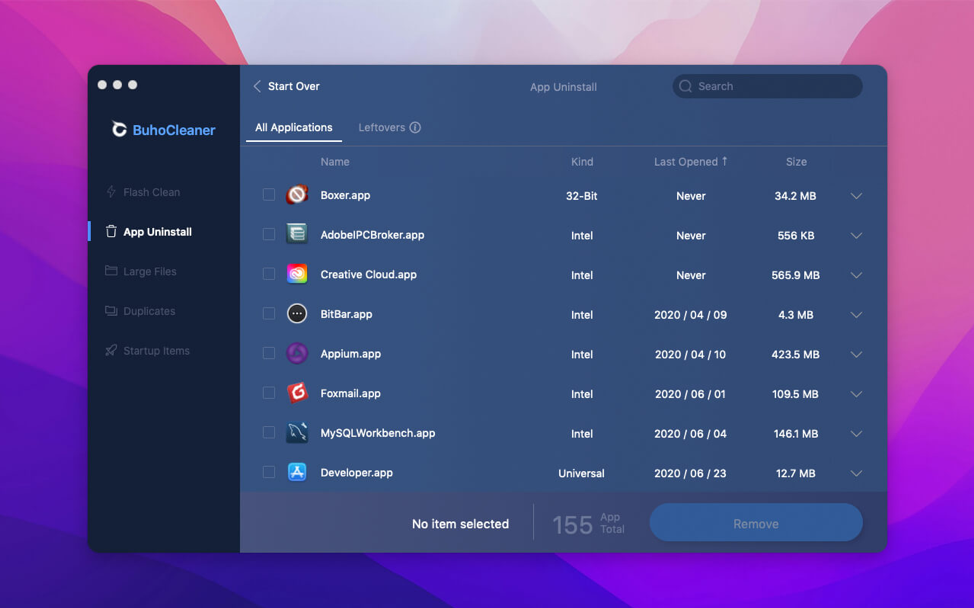 Find Large Files over 50MB Easily
Large files can take up a lot of storage space, and deleting them can free up a lot of disk space for you. BuhoCleaner's large file cleaning function allows you to quickly find and delete large files over 50MB on your hard drive. You can also click the BuhoCleaner menu> Preferences to change the default 50MB to any size you want.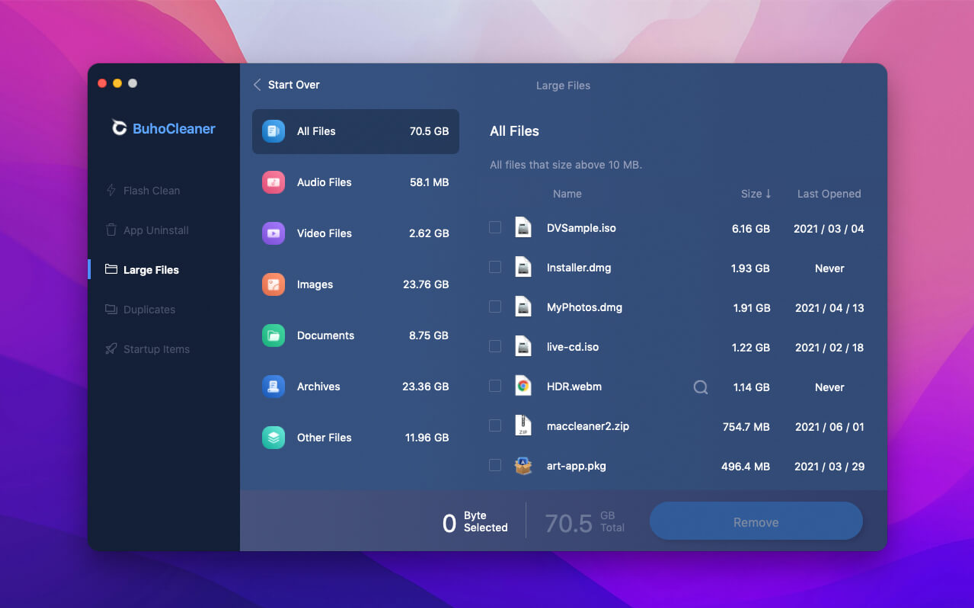 Search and Delete Duplicate Files Effortlessly
During your use of Mac, you'll inevitably create duplicate files on your disk. These duplicate files exist in different locations and are not easy to manage and delete. BuhoCleaner's free duplicate file finder tool can quickly find duplicate photos, songs, videos, documents, and archives in all folders on the hard drive. And this process only takes a few seconds. All you need to do is preview the results and decide which files to be kept or deleted.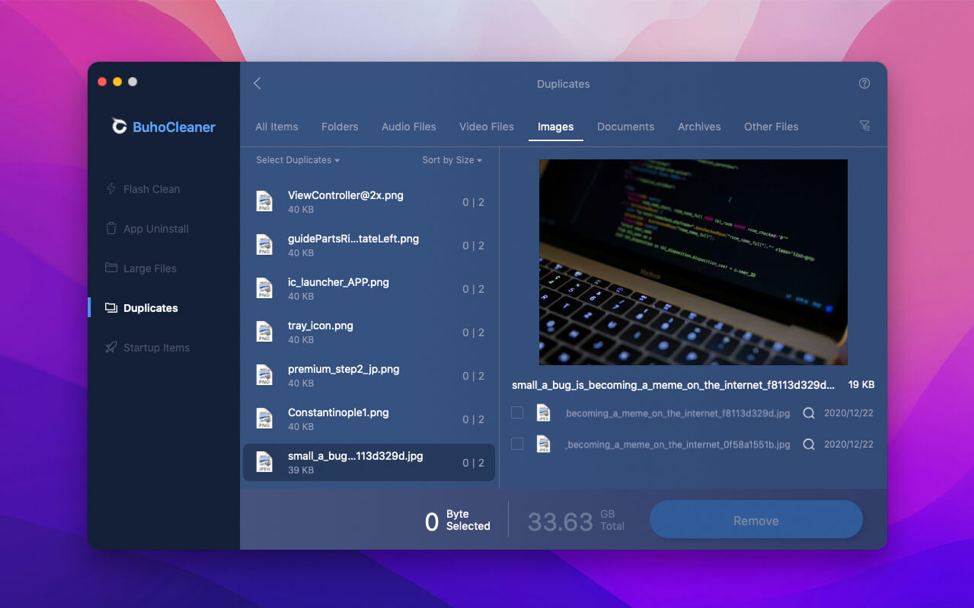 Manage Startup Programs Efficiently
Although this feature has nothing to do with cleaning up storage space, it can solve the problem of slow Mac booting or running. There are many startup items on my M1 MacBook. With BuhoCleaner, I can disable and delete any startup items with one click. Managing startup programs has never been easier!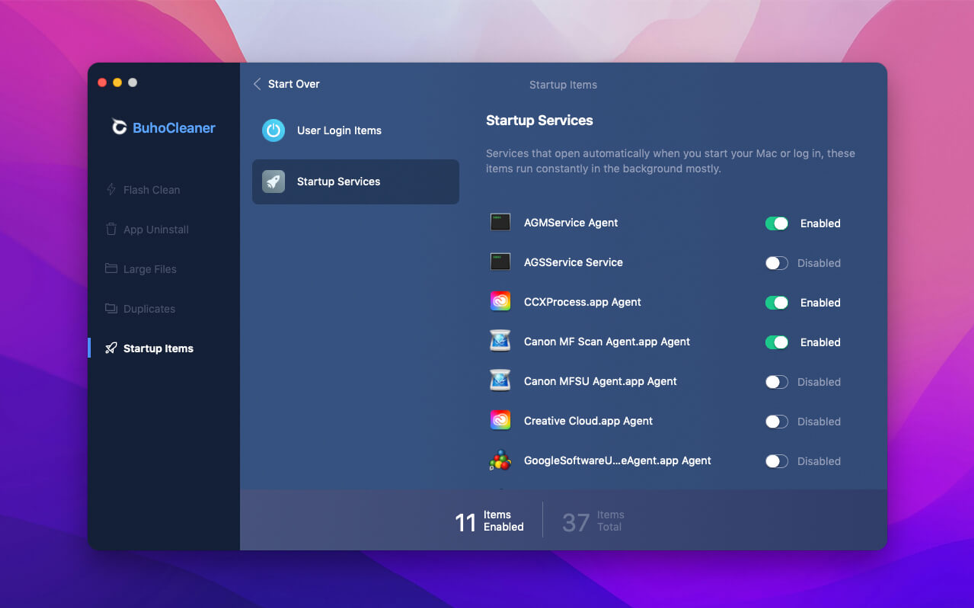 Monitor System Status in Real-Time & Free up RAM in One Click
BuhoCleaner can not only clean up your Mac with one click but also monitor the system status of your Mac in real-time, such as CPU load, CPU temperature, memory and storage space usage, and network upload and download speed. If you find the RAM is full, clicking the "lightning' button on the panel can help you free up it quickly.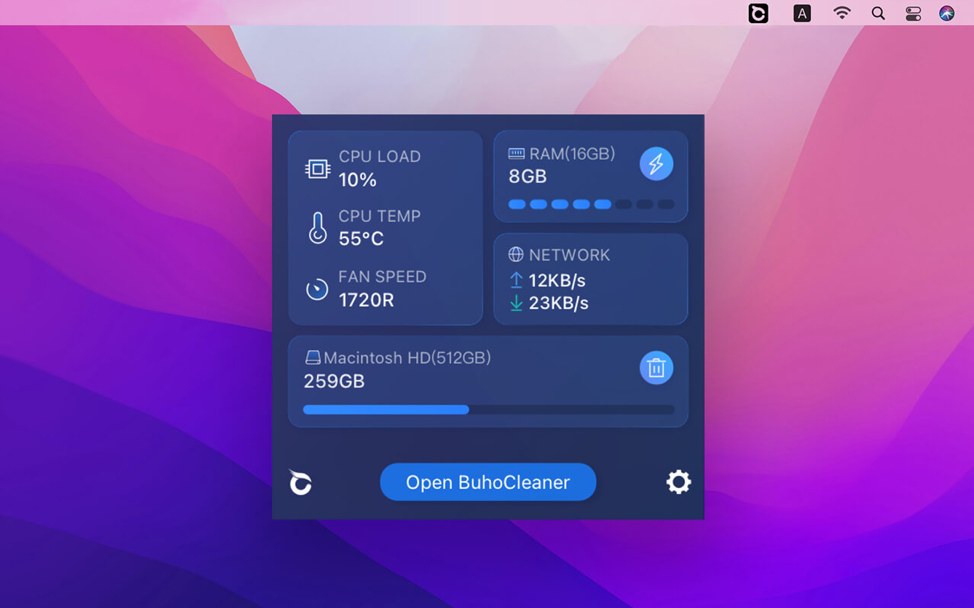 Is BuhoCleaner Worth Buying?
Yes, BuhoCleaner is indeed an extremely easy-to-use Mac cleaning and optimization tool. Its functions are very practical and can help you release a lot of storage space very quickly. If you often encounter the problem of insufficient Mac space and don't want to manually clean up the disk space yourself, using this cleaning tool to free up space is undoubtedly your best choice.
BuhoCleaner Prices and Special Offers
BuhoCleaner has a free version and a paid version. You can download the free version to experience it first and then decide whether to buy the paid version.
Download BuhoCleaner's Trial Version Here.
Compared with other Mac cleaners on the market, BuhoCleaner is easier to use and more affordable. BuhoCleaner is currently on sale, and you can save 50% on all its licenses. And after purchasing, you can enjoy a free upgrade for a lifetime. Here are the details:
Single (1 Mac) – $9.99 (Original Price $19.99)
Family (3 Macs) – $19.99 (Original Price $39.99)
Business (10 Macs) – $29.99 (Original Price $59.99)
Limited Time Only! Buy the full version of BuhoCleaner now.