TunesKit AceMovi Video Editor – A Smart Tool to Edit Your Videos
If I ask you to recall a day when you haven't watched a single video during the entire day, probably you would not be able to achieve it or you might have to rewind for a long time. Isn't it?
Videos have become such an integral part of our daily life. You get to see video content on every platform ranging from WhatsApp to Instagram.
Watching videos is always fun but editing a video takes a whole lot of effort. There are many technicalities involved which demand your time and hard work.
Choosing video editing software is a crucial part of video editing. It is very important to choose software which satisfies your requirements and has a simple and intuitive user interface to minimize your efforts.
Choosing the right video editing software can be an intriguing task as there are multiple products available in the market. To help you in choosing the right software, we have got you a video editing software recommendation in the article called TunesKit AceMovi Video Editor. If you are looking for a new video editor to use, then make sure you go through the entire article to understand the features, pros, and cons of the TunesKit AceMovi video editor so you can decide to use it or not!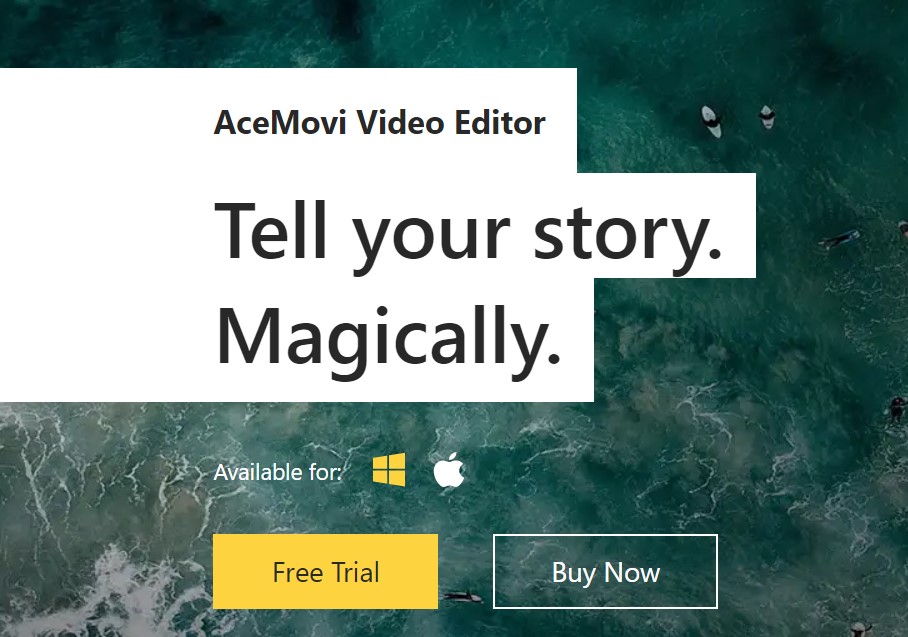 Features of TunesKit AceMovi Video Editor
This video editor comes with many useful and unique features which transform original video. Take a look at them:
Options and operations:
You can perform multiple operations such as rotate, crop, split, drag, add transitions & effects, music, and adjust the speed of your video. You can also add animations, text, audio, and other filters to your video and make it attractive. Text presets help you to add various animated and text elements to your video
Record Screen
You can also record the screen of your device using the TunesKit AceMovi video editor. You can record video calls, PPT, and other presentations; lectures, etc., and save them on your device.
Built-in library
The video editor has numerous ready-to-use templates, images, music tracks in the stock library which you can add to your videos. There are aesthetic and effective filters & overlays to enhance your videos.
A real-time preview is available so you can review the video after every change you make to it.
Device and Format support
The TunesKit AceMovi editor is compatible with Windows and Mac OS. You get a high-resolution video as output. You can save the video in many formats such as MP4, M4V, MOV, MKV, MPG, MP3, WAV, and others. Video can be customized to fit in several devices like Xbox, Huawei, LG TV, PSP, Galaxy Series, Apple TV, iPad, and iPhone.

Other features
Split-screen: TunesKit AceMovi lets you divide up to six screens at a time and each screen can be controlled and edited separately. The screen can be saved with customized resolutions.
Transitions-effects: You can add effective transitions to your video such as a whisk, split, merge, zoom, push, wipe, slide and fade. You can also change the duration and mode of every transition added to the video. In addition, different video attributes can be customized separately through keyframing. Video clips can have different positions, scales, opacity, and orientations.
Video–sharing options: You can export and share the edited video on your social media handles in just a few clicks.
Why use TunesKit AceMovi editor?
Beginner-friendly
You need not have prior editing experience to get started with TunesKit AceMovi. It has a simple and intuitive user interface.
In addition, TunesKit AceMovi helps you to learn editing with their several helpful tutorial videos on their YouTube channel.
Editing Interface:
TunesKit AceMovi editing interface gives you a peaceful editing experience with all required options in one place. Whenever you are ready to edit a video, you can import all the required images, music, and other graphics into the editor with no effort or you can download them from the built-in library. You can then modify, adjust the existing content, or drag and drop the additional images, animations, and graphics. Editing can be reviewed after every step and modified accordingly. You can also use keyboard shortcuts while editing. Thus the software is recommended both to editing professionals and beginners as this interface helps the experienced professional to reduce the time taken and make the process simple for beginners.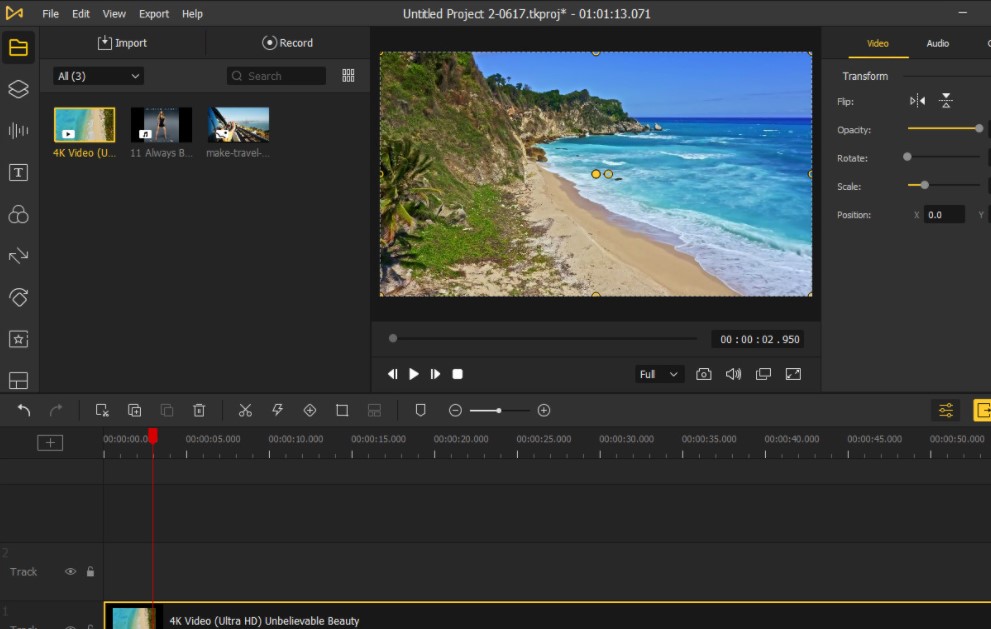 Affordable
TunesKit AceMovi is available both in free and premium versions. Although there are no big differences between both of them, the free version outputs a video with the watermark on it whereas the watermark would be removed in the premium version.
Once you try the free version and if you wish to buy the version of the software, it is available in monthly, yearly, and lifetime plans. One-month license costs around $19.95 and the annual plan is available at $39.95. You can purchase the lifetime plan at the cost of $59.95 and you can get a premium subscription to Ace-movie forever with no renewals. However, purchasing a yearly plan is highly recommended if you are someone who frequently edits videos and upgrade to lifetime plans over time.
The same features are available in all types of subscription plans with no difference.
Cons of TunesKit AceMovi:
Although it has numerous pros to use, it does have a few cons.
This software is not supported on Linux.
You cannot share the video on YouTube directly, you have to save it on your device and upload it on YouTube.
Conclusion:
Video content is the most popular form of content on any social media. Video editing has become a demanding skill in this digital era with many uses. Nowadays, to learn video editing, you need not aim to become a video editor. It has become necessary for people from different professions like teachers to record lectures, content creators to share content on different social media platforms and build their personal brand, and many others. TunesKit AceMovi is a simple yet professional video editing software that satisfies your editing needs at all levels. So, it is definitely a worth-trying tool. As a part of the Christmas and New Year sale, Tunes kit is offering exciting offers up to 85% on Ace Video Editor. Hurry up! Click here to purchase.